Whiplash in Bellingham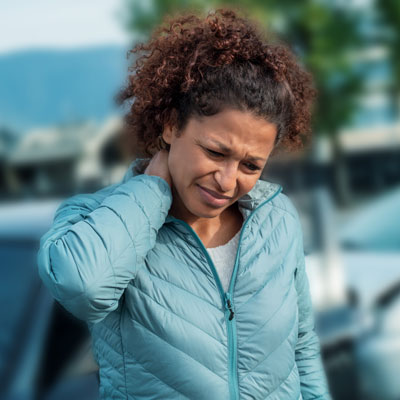 Have you ever been in a car accident or experienced a fall that left you with some degree of neck pain? Even if your accident or trauma was minor, it can still cause lasting effects on the body that can show as pain or dis-ease days, months, or years down the road.
That's why at
Noble Chiropractic
, we always recommend patients of all walks of life get their necks and spines checked after experiencing any kind of trauma to the area.
What Is It?
A whiplash injury is a type of neck injury that occurs when the head is suddenly and forcefully jerked forward or backward. It can occur during a car accident, a fall, or any other type of trauma that causes the head to move abruptly.
The most common symptom is neck pain. Other symptoms may include headaches, dizziness, fatigue, and difficulty focusing or concentrating. Whiplash can also cause nausea, jaw pain, and arm or shoulder pain.
This type of injury can cause tissue to tear, stretch, or pull, and in some cases, even rip or fully separate. Down the road, other systemic issues can flare as a result of whiplash injuries, including cardiovascular issues, circulatory system problems, and digestive issues.
How We Can Help
Dr. Noble is proud to offer patients focused, custom, and specific chiropractic adjustments to help realign their neck and spine, restoring proper nervous system function.
In addition to gentle chiropractic, we also offer non-invasive laser therapy designed to reduce inflammation in the body and help speed healing. We often place a big focus on the shoulders, aiming to improve positive energy flow and help nearby tissues heal that may have experienced trauma as well.
Learn More Today
If you're dealing with a whiplash injury that's new or old, we're here to help. Contact us today to learn about your all-natural care options that can help restore function and balance to your neck and body. We can't wait to hear your story and help you get back to living a pain-free life.

Whiplash Bellingham WA | (360) 671-7067