Movement Lab for Athletes in Bellingham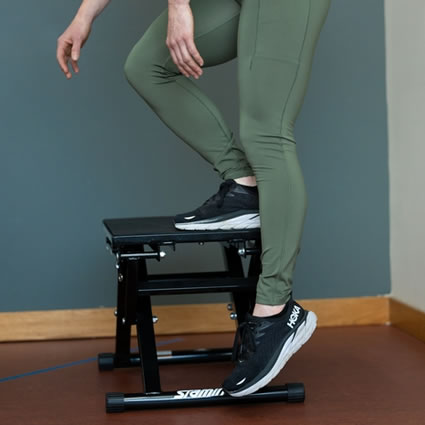 Whether you're a distance runner, hardcore CrossFitter, mountain biker or weekend warrior, you want to perform optimally in your sport of choice. At Noble Chiropractic, we can help athletes of all levels be at their competitive best with Movement Lab.
What Is It?
Movement Lab is a dynamic technique created by Dr. Noble to change neural patterns to decrease asymmetries in the body which affect balance. After several years of testing, he found that most people have a delay in their ability to hold a position due to diminished muscle recruitment.
With Movement Lab, we can decrease the delay and increase the muscle recruitment pattern fast. After changes to the neural pattern have been made, those changes hold and become your "new normal" pattern.
This means we can remove any twist to the spine, even out discrepancies in leg length discrepancies, and balance shoulders. Movement Lab helps strengthen the body, helping it become more robust and nimble.
What Are Benefits for Athletes?
With Movement Lab, athletes of all levels may experience improved
Power
Speed
Agility
Reaction time
These are the main metrics in which athletic performance is measured. When you improve those, the athlete will see an improvement in their sport. They can move faster and with more confidence, and they are less likely to get injured. The faster muscles recruit on taking a step, there's an opposing force that comes into the body; it comes up from the ground. If the muscles recruit super fast, they just absorb that force and slow it down. Let's say you don't respond quickly enough, and if you made a wrong step or tripped and your foot slammed down to the ground, the force doesn't slow down the muscles and may run into the joint. As a result, you can sprain or rupture a ligament or tear a muscle tendon. An athlete can be incredibly strong, but still pull a hamstring or blow their knee out. It all comes down to reaction time. Movement Lab can help with that.
Book an Appointment
Experience for yourself how Movement Lab could help boost your athletic performance on many levels. Contact us today to schedule an appointment! Find out how Dr. Noble helped top tier cyclist Payson Partridge be at his competitive best. Check out the first blog in a series that chronicles his incredible journey. CONTACT US »


Movement Lab for Athletes Bellingham WA | (360) 671-7067