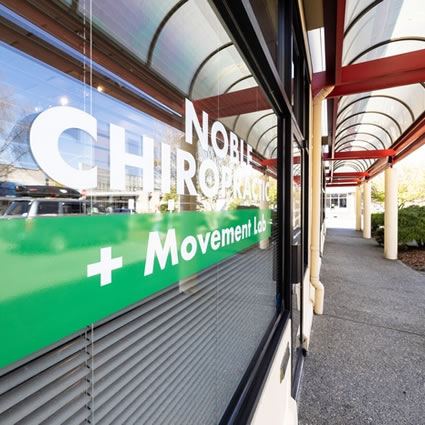 About Noble Chiropractic
Confidence in Motion
Our goal at Noble Chiropractic is to open up your neural pathways and clear out subluxations, so you can function at a new level. We want to give you confidence in motion, so you can participate in any activities without worrying about your strength, agility or balance.
Our patients leave our care stronger than when they began, and with greater mobility. We strive to get you out of pain quickly and create healthy neurological patterns that last.
MEET DR. NOBLE

Our History
Dr. Noble changed careers to become a chiropractor as a direct result of a devastating accident that nearly took his life. His appreciation for the care he received throughout his long recovery inspired him to share what he'd learned about how the body works in a way that could benefit others.
After earning his Doctor of Chiropractic from Western States Chiropractic College, he began practicing in 2006. Over his fifteen years in practice, his guiding principle has been to continue progressing—he is committed to continually providing the highest level of care so our patients can live their healthiest, happiest lives.
The Components of Injury
As a former mechanical engineer, Dr. Noble has always been interested in the mechanics of how things work—and that applies to the human body, as well. Many patients seek our care for a pain or injury, and they don't understand that there are many things at play in the body that ultimately result in the dysfunction they're experiencing. Dr. Noble is passionate about helping patients understand the mechanical, neurological and even emotional aspects of their condition.
By creating healthy neural patterns, we help restore optimal communication between the body and brain. When these patterns are reset, we find that they normally hold—which means you continue to function at your highest level, without the need for continual maintenance care.
Function Better Starting Today
Contact us today to schedule your first appointment, so you can start functioning at your highest potential.


About Noble Chiropractic | (360) 671-7067