From ESPN's Athlete's Life comes, Training Tracks: Shalane Flanagan
By Cristina Goyanes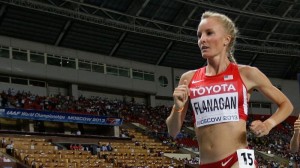 Growing up 17 miles north of Boston, in Marblehead, Mass., Shalane Flanagan watched her parents compete in the Boston Marathon and had long envisioned herself standing on podium there. So when the 2008 Olympic bronze medalist in the 10,000 meters finished fourth in her Boston debut last year, she was feeling down. Then the 32-year-old learned about the bombings at the finish line.
"New Englanders don't like it when you mess with them. There's a sense of pride and honor to this city; we're tough people," said Flanagan, who was eating lunch at the Fairmont Copley Plaza a block away when she heard the blasts.
A year later, Flanagan, who trains at the Nike Oregon Track Club in Portland where she lives with her husband, is looking for a second chance to be the first American (male or female) since 1985 to win her hometown race and bring joy to Boston on that day. In her words, here's how she plans to do it.
Going the extra mile
It takes about three months to prepare for a major marathon. The first month I spend building the foundation and doing a ton of miles, about 14 to 20 a day, averaging 120 miles a week.
Five to six days a week, I'll do two workouts a day. In the morning, I'll run from 60 to 80 minutes and follow up with core work in the gym; then in the evening, I'll do a 15- to 30-minute run. At the end of every week, on the seventh day, I'll do a long run — anywhere from two to three hours, covering between 20 to 28 miles. There are no days off in marathon training.
I'll train for one month on, one month off at altitude. At elevation, your body gets less oxygen, which in turn promotes the production of red blood cells that help make you more efficient at sea level. I've gone to various places across the U.S. (including Mammoth Lakes, Calif., and Colorado Springs, Colo.) for elevation. For the Boston Marathon, I've trained at altitude in Flagstaff, N.M., where it's been a mild winter, twice now.
When I did some training on the Boston Marathon course this winter, it was so cold. The frigid temperatures and high wind chills were unbelievable. Though my core warms up fast, my hands and toes tend to go numb. I'm the queen of layering on socks. I've also been known to throw my gloves in the dryer right before I head out.
Cross-training
Runners are notoriously tight. Downward dog, pigeon pose and child's pose are the best yoga moves to improve my flexibility. Also, I do a lot of dynamic stretching, like leg swings to loosen up the hips, before and after my runs. It can make the first few steps in your run, which are usually miserable, feel much better.
Planks are always good, but I just love crunches over a medicine ball. It allows you to arch your back over the ball, which gives you a really nice extension. I don't try to hit a specific number, but rather I just go 'til I'm fatigued. That's made my core really strong. I do side crunches too. It's important to build your obliques, which is where you draw a lot of strength for running.
For cross-training, I try not to hammer anything. I feel like I'm literally shrinking because I do so much pounding. I love the pool because it's anti-gravity. Swimming for just 10 minutes, freestyle or breaststroke, opens up my spine and makes me feel taller afterward.
Eating clean
With the exception of blue corn tortilla chips and dark chocolate (my favorite indulgences), I eat a lot of fruits, vegetables and meats leading up to a marathon. My go-to snack is an avocado; I'll eat a whole one straight up. I don't limit myself on fat. Also, I try to have all my carbs during the day to fuel my training and protein in the evenings for recovery.
Home team
At last year's Boston Marathon, it felt like friends and family were lining the entire course. I heard my name almost every step of the way. To have that kind of support is just ridiculously awesome. I can't think of another sporting event that I've competed in where it felt like everyone was cheering for me. Everything from the chalk-written messages on the road to the posters made it a really cool experience. The fans were unbelievable.
Fourth place isn't what I dreamed of for the Boston Marathon. It's the worst position to finish in because you just narrowly miss the podium. I was only eight seconds from second place and two seconds from third. I was right there, which is a great motivator, but it's also really heartbreaking too. And then a few hours later, the bombings happened. The day went from pursing a lifelong dream to catastrophe.
This year's race will hopefully be one of the best Boston Marathons ever. I think there is this longing to see an American win. I want to be that hope and joy for people on that day and bring life back to the city.