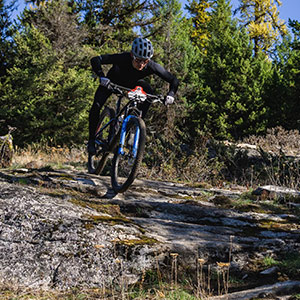 Needless to say, when the 2021 season began to take form, I was excited to test out the new body, skills, and mindset I had acquired throughout the last year. Winter training had gone well, and I had been able to get a solid few months of base miles under my belt, and was feeling strong going into the first couple races of the year. My season started with local XC races leading up to two major pro XC events.
Competing Against Big Names
The local events were a first test of the legs, which showed up with incredible form: I was able to walk away with a couple confidence-boosting wins. Going into the first few major races the nerves were expectedly present, and I had no idea what to expect. I tossed my hat in with the biggest names in US mountain bike racing.
True to form, I started tentatively and tried to test the waters. No doubt this was the wrong approach. A conservative start means fighting through the main bulk of the pack, while those who made the lead group power on, unencumbered by traffic. Even with my approach, I was able to walk away from the events sitting in the top third, a result that was undoubtedly impossible in years before.
Cycling to the Top of the Podium
The season ticked on, and races came and went with surprising regularity in results: top of the podium at regional events and just behind the big dogs at the national races. A solid third-place result at High Cascades 100 capped off the main season, and proved to myself that the training I'd completed was paying off.
Preparing for the BC Bike Race
Then I got the call to participate in the BC Bike Race. The BC Bike Race is a seven-day mountain bike stage race set in Penticton, Canada, and draws the who's who of endurance athletes from around the country, and even the world. This event had been on my bucket list for years, and I knew it was my opportunity to make a splash… so the rest of the summer was dedicated to being completely prepared for BCBR in October.
Preparedness meant straight back to work with Noble Chiropractic, this time focusing on the mental aspect of my racing. Confidence would be key for the event, where punches at the front of the pack were necessary for any type of placement. Dr. Noble continued to work his magic, and we tuned my mental sharpness with a focus on prime performance at BCBR.
With all the preparations completed, it was time to prove I belonged at the sharp end of the race. I had seven days to do so, seven chances to make my mark, and one overall result to show my worth. All or nothing, all in.
Up next, Payson participates in the BC Bike Race!