I am in my 30th year of mountain biking. Crazy to me. I came up through BMX and for a few years I rode motocross. At 16 years old, my first mountain bike purchase was made. My life has been pretty well dictated by my bike ever since. For instance, where can I live to maximize my mountain bike time? Bellingham won that handily. No place like it as far as I and many others here can tell. And it just gets better all the time. But that is another story.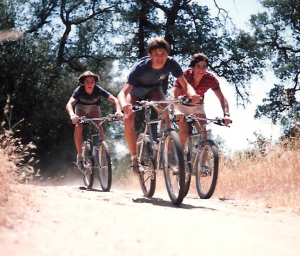 I raced a fair amount when I was finishing my teens. I wanted to do it for a living. And then I didn't. Like many before and since, the fun of riding started to disappear as the hours on the bike got longer. Burnout set it. I quit racing and pointed my life towards an education. That led me to an engineering degree and then a chiropractic degree. Again, that is another story though.
This story is about the bike I think. I was out riding over the weekend with a friend of mine on Galbraith, and I find it amazing that I can still get that same thrill as I did when I was 16 years old riding the trails around Sacramento. Thirty-years on and the pure act of riding a trail still gets me as pumped as ever…or stoked as some would say. That is amazing to me. Passion one might say is what I have for the ride. Or more simple…it is just fun. That is why 30 years the excitement thrives within. Pure fun. And thankfully I am not alone in this.
This picture was taken almost 30 years ago in Sacramento. Before helmets. My two brothers and a good friend. It is one of my favorite all-time pics because, for me, it captures what mountain biking is about. Out with friends, having fun on the ride.