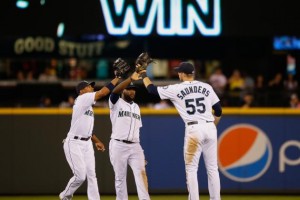 From the News Tribune by Bob Dutton – Pomp, Paxton for Mariners' home opener
"Let's talk hoopla with a Northwest twist. The Seattle Mariners are set to unveil All-Star second baseman Robinson Cano, their seminal offseason acquisition, to a sellout crowd Tuesday, when they open their home schedule at 7:10 p.m. against the Los Angeles Angels. When they take the field, the Mariners will, at 4-2, occupy sole possession of first place in the American League West Division. And before anyone starts snickering about it only being April 8, understand this: The Mariners haven't been alone atop the division this late in the season in five years. Five long years. Here's how long ago that was: the Seahawks had just stumbled their way through a 4-12 shambles.
That's right; back then, 12 had a whole different meaning hereabouts. Fast forward to Tuesday night: The Seahawks, as Super Bowl champions, will take part in the Mariners' home opener by having several players participate in the ceremonial first-pitch ceremony at Safeco Field. And you thought the Daffodil Festival was big. Well, hunker down, hoss, and grab your preferred craft brew because it's time for ball again in Seattle, where the call to 'Fly Away' or better yet to 'Get out the rye bread and mustard, grandma '" still resonates. Where 1995 continues to beckon like Excalibur, and where Junior is forever The Kid. Where the best way home is a line along Edgar Martinez Drive. Where if it rains (when it rains?), who cares? We've got a roof. And where Tuesday night, a 25-year-old Canadian left-hander from just over the border in Richmond, B.C., has the chance to control the entire evening while also carving another notch into baseball history.
'It's going to be very cool,' said James Paxton, who will start for the Mariners. 'From what I've heard, it's pretty much down to single seats in Safeco for that first (home) game. It's going to be loud, and that should make it a lot of fun for us.'
The Elias Sports Bureau reports Paxton is just the second pitcher in history — not Mariners history; major league history — to go 4-0 or better in his first five games, all starts, while compiling an ERA under 1.25. (And if you're going to claim to know the only other guy to do so was Boo Ferriss for the Boston Red Sox in 1945, then you surely know what his real first name was. Yeah? I'm waiting.) Paxton faced the Angels just last week in Anaheim, Calif., when he worked seven shutout innings in an 8-2 victory that completed a three-game sweep in the season's opening series.
His plan Tuesday?
'I think you make them adjust to you and go from there,' he said. 'If you see them starting to make adjustments, taking different swings on you, then you make an adjustment yourself in order to combat that. It's a bit of a chess game, you know.'
Except the Angels' back rank includes Mike Trout, Albert Pujols, Josh Hamilton and an old friend in Raul Ibañez. Not that any of that mattered last Wednesday, when Paxton permitted just two hits while striking out nine.
'He could have easily went nine (innings),' Seattle manager Lloyd McClendon said, 'but at this stage of the game, we're going to make sure we take care of this young man. His angles are such (that hitters are uncomfortable). He's such a big kid, and he's over the top. You just don't see that. It's an added advantage.'
Paxton anticipates another advantage Tuesday; a sizable Canadian contingent figures to migrate south to Safeco and the surrounding SoDo establishments for the home-opening carnival.
'I'm not sure on the numbers,' he said, 'but I've got quite a few messages saying, 'I'll see you on Tuesday.' "
Read more here: http://www.thenewstribune.com/2014/04/08/3138379/pomp-paxton-for-home-opener.html?sp=/99/512/#storylink=cpy