Payson Partridge is now a top tier athlete. Join us on his journey from middle of the pack and considering leaving racing, to excelling and fully committing to his sport.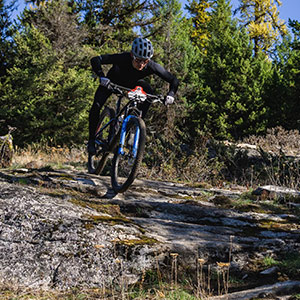 I'm pretty confident that the first time I went to Dr. Steve Noble's office, his exact words upon evaluating me were "Bad news is you have a number of imbalances and poor muscle recruitment throughout your body; the good news is you have a ton of room for improvement."
Which in the moment felt less-than-amazing, but in hindsight it was better for everyone involved. I first met Dr. Noble in the fall of 2019, when I was fresh off a semi-disappointing mountain bike race season where nothing seemed to click. Results were inconsistent, my headspace was all over the board, and I struggled with whether to continue dedicating my life to the sport. We planned to reconvene soon thereafter for an introductory power test and some work following.
Looking Ahead to the New Season
Eventually, December rolled around, and it was time to start thinking about training for the 2020 season. Remotivated and ready to put in the work again, it was the room at Noble Chiropractic that I would become so familiar with in the coming months. That first day, we did a test of Functional Threshold Power (FTP), which is a measurement of maximal sustained effort an athlete can produce.
Paired with weight, you get a power-to-weight ratio, which is basically the end-all-be-all number for cyclists. After a warm-up and 20 minutes of full-on suffering, the numbers were in, and not exactly what I had hoped for. All said and done, I came out with an FTP of 275 and a power/weight of 4.36 … a respectable amount, but as Dr. Noble had mentioned earlier: room for improvement.
Powering Up
Maybe the most abrupt improvement I ever saw with Dr. Noble was directly following that initial power test. After sitting on the ground and recovering for a minute, Dr. Noble worked his magic. Focusing largely on my exhausted legs, he slowly began correcting imbalances left and right, up and down, and all over the place.
Immediately things began to feel different. It's hard to describe, but there's a sense of stability, control, and untapped power hidden somewhere in my fatigued body. So naturally, it was time for a test. A simple box was set up, and we proceeded with some assessments of agility and stability: running back and forth while stepping up and over the box, and single leg dips.
Probably the most incredible fact was that I could complete the tests with tired legs, but even more so was that I could keep improving. After every round, Dr. Noble would correct something else, then my reaction time would again improve, and my knee would be far more stable throughout the dips.
Motivated to Improve More
Set after set, we kept going, and even though I felt physically drained, there always seemed to be the ability to go again, do better, and keep improving. It was exciting to see such quick results, but also a bit frustrating that all this potential was locked away somewhere in me this whole time. I left that session feeling excited, motivated, and couldn't wait to get back in the lab.
For the next few weeks, Dr. Noble and I worked together every week, slowly correcting imbalances, removing energy blocks, and improving my headspace. Immediately I noticed a shift throughout my everyday life, primarily during training applications. During this time of year, I was transitioning through the offseason and into base miles in preparation for the coming race season.
Up next, we learn how Payson's training helped him experience remarkable improvements.