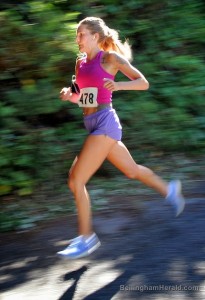 After graduating from Western in the spring of 2010, I moved to Boulder, Colorado. I spent three years there, finding my place in the running community alongside what were called "the old balls," running legends with legends to tell, the likes of Mike Sandrock and his gang, with guest appearances from Frank Shorter, Arturo Barrios, and Micah True. I tried to fall back into love with running, which included setting aside goal development. At the time, the old balls crew was exactly what I needed.
I looked into running for Newton, which seemed to support the kind of lifestyle I inhabited: supporting the full time worker, offering a group to run with, gear, races. But it didn't feel like the right fit, and after taking time away from serious running, it wasn't like I had created a commodity; if anything I needed someone to see what I couldn't. I became the Boulder Creek Path grocery runner, carrying groceries in my arms, running to thrift shops, carrying, once, a chair on my shoulders, running along the creek back home; all of this built inner strength, but the something was missing.
When I moved back to Bellingham, it took a while to get back into running. I'd make it a mile and a half out the door before I'd panic and need to turn back. I rested in that 3-mile comfort zone for months before a friend mentioned signing up for the Boston Marathon. I felt inspired by her own passion, and humored returning to the idea that I could piggyback her passion later, if I found myself apt. It took months before I signed up for the Skagit Flats marathon, a last chance race, with Boston signups the day after. I'd either run the time and qualify, or I wouldn't – the pressure wasn't there because I hadn't put in the work. Come Skagit Flats, I was running maybe 20-25 miles a week, which was not ideal, but it was the most consistent I'd been in a long while. After Skagit Flats, finishing with a Boston qualifier, I felt, for the first time in years, truly proud of myself.
From that point forward, I've developed upon that space in me that could feel pride. A cross-country season with low mileage followed, a winter of marathon training, the Boston Marathon, a summer of local races which instilled, furthermore, a hunger for running and competition. Ever since I found that feeling, I've hung onto faith. Now I feel myself wanting to play catchup. I want to make up for all the years I lost in anxiety or depression or lack of interest in the sport. I want to ramp the mileage, seek soreness, push my body to its limits. In general, I haven't been entirely smart in my training in that I haven't had a true break since before Boston training, and despite sickness, weak points in my infrastructure, my body is holding up despite.
Right around running Skagit Flats, I started working at Noble Chiropractic. I began receiving care, generally three adjustments a week, and through this and Steve Noble, I was able to get a better sense of my body; I could hear a hiccup in the system a little more clearly, and I was able to watch what my body naturally held, or what needed coaxing in order to stick. With ramped-up excitement and as I put in a lot of miles in leading to the next goal, the Chicago Marathon, I can say with full confidence, that my body would not hold up against the stress without Dr. Noble. I feel so lucky to be able to have his care as part of my training regime. It feels like, for once, I'm working towards a goal that is conceivable and healthy.
-Courtney, C.A.