Noble Chiropractic is getting ready for the holidays! We'll be closing our doors starting Thursday afternoon, December 19th, and will reopen again 9 am, Thursday, January 2nd, 2014! We will be sad to miss you over the next few weeks, but excited to reunite with our relatives, sip hot drinks, and reflect on the positives of 2013. With the new year comes change, goal-development, an uptick in motivation. We plan to take 2014 by the reigns and make it a year of community, affordability, health and performance.
If you're looking for an event to do this holiday, Skagit Ultra Runners will host its Last Chance  ½ Marathon and Marathon on December 31st at Fairhaven Park. If competing isn't your cup of tea, the race is in need of volunteers – what better way to bring in the New Year than to celebrate and encourage your community in their final feat of 2013?  – OR – on January 1st, 2014, the Resolution Walk/Run and Polar Bear Dip will go down at Lake Padden. The cool thing about this is that it is a FREE event, no Registration necessary!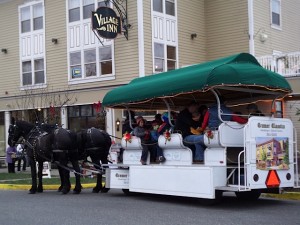 Most businesses in downtown Fairhaven will stay open later on Friday's in the month of December, for all of you who want to walk around under the Christmas lights, get some fresh air, or pick up some last minute gifts. Horse-drawn carriage rides and visits with Santa will be available at the Fairhaven Village Inn on Saturdays from 12-3 pm.
Don't forget to take some time with yourself this holiday – this time of the year can be quite stressful and its important to breathe deep and enjoy the moment, whether it be by getting your schedule lined up for January ahead of time, a walk through Fairhaven, or a polar bear dip with all the rest of us crazy Bellingham adventure-seekers.
Stay tuned for an upcoming special offer for the month of January!
Happy Holidays,
Noble Chiropractic