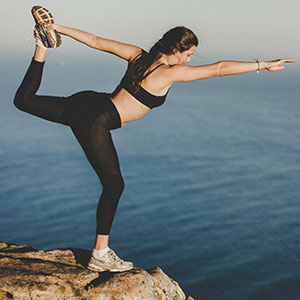 According to a recent study cited in a CNN article, an inability to stand on one leg for 10 seconds in later life is linked to nearly double the risk of death from any cause within the next decade. What Dr. Noble found particularly interesting in the article is that balance is well-preserved until your 50s, but then diminishes rapidly. "If you're active and take care of yourself, that's not true," he said.
Reversing Balance Challenges
According to the CDC, "Each year, about 3 million older adults are treated in emergency departments for a fall injury. One out of every five falls causes an injury, such as broken bones or a head injury."
Not only can falls have devastating physical effects on a senior, but also emotional ones. They will likely lose confidence and often become sedentary. For example, seniors who are afraid of tripping or falling every time they get up to walk will likely choose to stay in a chair for extended periods. Confidence will wane and health can diminish, as movement is vital to good health.
The good news is Dr. Noble can help restore balance.
With Movement Lab, I can help improve anyone's balance on a level that typically gets them well in about 10 seconds," he said. Dr. Noble has helped people into their 80s with their balance.
Our Three-Pronged Approach
Dr. Noble uses balance board work in Movement Lab, along with chiropractic care and cold laser therapy. Chiropractic care helps with the structure, and will help the nervous system work better. More electricity will be put into the body, and the organs and muscle system will be healthier. Laser therapy and Movement Lab help with muscle control and muscle strength.
Restoring Confidence
Restoring balance can also restore priceless confidence. When you have balance, you'll feel confident getting in and out of a car, walking across the parking lot, or even taking a walk in the woods. When you have better balance, you will be freer to move and able to enjoy a higher quality of life and better health well into your golden years.
Take That First Step Toward Better Balance
At Noble Chiropractic, we want to help you get your balance and confidence back. Dr. Noble gets great results for his patients. "The majority of people see their balance improve, often quickly and dramatically," he said.
Contact us today to book an appointment!