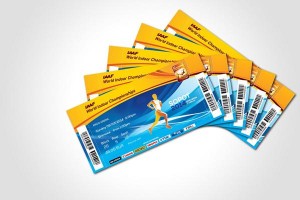 The IAAF World Indoor Championships will take place this weekend in Sopot, Poland, a small seaside town of 40,000 in Eastern Pomerania on the southern coast of the Baltic Sea. Around 600 athletes will compete, representing over 143 nations. Female athletes to look out for:
60m
Ivory Coast's Murielle Ahoure heads the world list with a swift 7.03 and the 26-year-old boasts no less than five of the top 10 times this season. With her 6.99 lifetime best surely in danger, she will be determined to improve upon her global silver medals from this event's last edition in Istanbul two years ago and from Moscow over both 100m and 200m outdoors last summer.
Jamaica's double world champion Shelly-Ann Fraser-Pryce, whose indoor experience is improving with a 7.10 best this campaign, will be keen to add more gold to her impressive resume in her IAAF World Indoor Championships debut.
Also look out for Jamaica's 2010 and 2012 world indoor winner and two-time Olympic 200m champion Veronica Campbell-Brown, as well as the British and US 2014 60m champions Asha Philip and Tianna Bartoletta.
400m
USA's Francena McCorory and Russia's Kseniya Ryzhova are the joint favorites over two laps of the track.
McCorory will be the only woman in Sopot to have dipped below 51 seconds this winter with 50.85 when capturing the national title at altitude in Alberqueque little more than a week ago. Behind her, Joanna Atkins finished second in a 51.13 personal best.
Ryzhova clocked 51.03 when winning the Russian title last month and, after many successes as part of Russia's relay teams, is now looking for individual honors.
Nigeria's Regina George, a winner in Birmingham last month, could also surprise.
800m
United States pair Ajee Wilson and Chanelle Price have enjoyed breakthroughs indoors this winter to occupy the top two positions on the 2014 world list with 2:00.43 and 2:00.48, respectively, after their one-two finish at the US Indoor Championships. Both are making their debuts in the event and Wilson, still only 19, will be chasing a senior crown to add to her world junior and world youth titles. Another young athlete, Great Britain's 20-year-old Laura Muir, goes into the event full of confidence following a 2:00.94 best in January and an impressive victory over 1500m in Birmingham.
1500m
With reigning champion and recent world record-breaker Genzebe Dibaba opting to focus on the 3000m, this event seems to be Abeba Aregawi's for the taking. In Stockholm early last month, the 23-year-old Swede registered 3:57.91, making the world champion the second-fastest woman ever indoors. It makes her the fastest woman over 1500m in Sopot by more than seven seconds, with the Netherlands' Sifan Hassan looking to be Aregawi's nearest challenger.
* USA's prodigious 17-year-old Mary Cain, having set an American junior indoor record over the mile with 4:24.11 earlier this year, was forced to withdraw from the US team due to injury. She had looked to be a medal contender, but now the battle for minor medals could be between Russian champion Svetlana Karamasheva, Albanian record-holder Luiza Gega and Olympic silver medallist Gamze Bulut.
3000m
The outstanding favorite for gold will be Genzebe Dibaba, confirmed by her magnificent world record-breaking spree this winter. In the space of a two-week period in early February, the 23-year-old Ethiopian scorched to 3:55.17 1500m and 8:16.60 3000m world records and a 9:00.48 two mile world best. Dibaba appears to be a different athlete to the woman who finished eighth in the Moscow 1500m and exited in the heats of the London 2012 Olympic Games through injury.
Kenya's reigning champion, Hellen Obiri, is the best of the rest having run 8:29.99 this winter. She will be supported by her teammate, Irene Jelagat.
Either Almaz Ayana or Hiwot Ayalew will be the second Ethiopian runner and both are capable of getting among the medals while Bahrain's two-time world 1500m champion Maryam Jamal warmed up for Sopot by winning the Asian indoor title last month.
60m hurdles
Australia's Sally Pearson ran in Berlin on Saturday, her first indoor competition since her 2012 gold medal-winning run in Istanbul, and showed that she is ready to mount a fierce defense of her crown with a scintillating 7.79 world-leading time in her heat and 7.80 in the final. The Olympic champion also recorded 12.59 outdoors in Perth last month but,
US champion Nia Ali and long-jumper-turned-hurdler Janay DeLoach Soukup should challenge after running lifetime bests of 7.80 and 7.82 at the US Indoor Championships.
Germany's Nadine Hildebrand and Great Britain's Tiffany Porter, both of whom have run 7.91 this season, could in the medal mix as well.
High jump
Blanka Vlasic has returned from injury and leapt 2.00m in Prague last week, so the two-time former world indoor and outdoor champion will be looking to make amends for missing both the 2012 Olympic Games and the World Championships last summer.
Russia's Maria Kuchina tops the 2014 world list with 2.01m from Stockholm in early February and one of the best Polish hopes for a medal in Sopot lies with Kamila Stepaniuk-Licwinko, who has improved her indoor best by eight centimetres this season to a national record 2.00m.
Also in the hunt for medals should be Spain's reigning European champion, indoors and outdoors, Ruth Beitia, who has also gone over 2.00m this winter.
Pole vault
The host nation's best bet for gold possibly lies with Anna Rogowska. The 2009 world champion cleared 4.76m in Gent in early February to achieve her best height in three years and top the 2014 world list. A 4.85m vaulter at her best, Rogowska collected world indoor silver in 2006 and bronze in 2010, but,
Great Britain's 2013 European indoor champion Holly Bleasdale, Germany's Silke Spiegelburg and the USA's world indoor record-holder and 2012 Olympic champion Jenn Suhr can all interrupt her ambitions for a global indoor gold medal.
Long jump
Russia's Svetlana Denyaeva-Biryukova has twice leapt 6.98m on her home turf this season – an improvement of more than 20 centimeters – and the 22-year-old will be hoping for more success on her debut on the global stage.
Serbia's 2013 world outdoor bronze medallist Ivana Spanovic leapt a 6.92m national record recently and will be joined by France's Millrose Games winner Eloyse Lesueur, USA's Tori Bowie and Great Britain's Katarina Johnson-Thompson in the quest for medals.
Triple jump
A close battle between Russia's Yekaterina Koneva and Ukraine's Olha Saladuha, the silver and bronze medallist from the 2013 World Championships, is likely to ensue, with the pair both having registered 14.65m this season.
There is quite a distance between the leading pair and the rest but, of those expected to be in the fight for the bronze medal, Jamaica's Kimberly Williams and Kseniya Dziatsuk of Belarus should feature highly.
Shot put
New Zealand's Valerie Adams is a firm favorite to add to her 2008 and 2012 victories, following her impressive return from ankle and knee surgery to throw 20.19m outdoors at home in Christchurch last month. The 29-year-old two-time Olympic Games and four-time world outdoor champion will be looking to extend her extraordinary winning streak to 44 finals.
Germany's Christina Schwanitz, the silver medallist behind Adams in Moscow, should be her closest challenger. Schwanitz is unbeaten in five competitions this year and boasts the top five indoor distances in the world in 2014 with a best of 20.05m.
Pentathlon
Sharon Day-Monroe will go to Sopot as the 2014 world leader after setting a US record of 4805 points at the US Indoor Championships.
However, she faces the heptathlon gold and silver medalists from Moscow: Ukraine's Hanna Melnychenko and Canada's Brianne Theisen-Eaton, the latter having not competed in a pentathlon since 2012. Melnychenko is in great shape and has set two personal bests during the indoor season with 8.20 in the 60m hurdles and 14.19m in the shot put.
Yana Maksimava of Belarus is number two on the 2014 world list with a 4686 personal best and has since won her national indoor high jump title with a 1.93m personal best.
4x400m relay
The US squad includes three of the top four 400m exponents in the world this winter with McCorory, Atkins and 2013 world indoor 400m bronze medalist Natasha Hastings and so have the mantle of being the favorites.
Behind the Olympic champions, a close battle should expected between reigning world indoor champions Great Britain and 2013 world champions Russia, the former utilizing world 400m champion Christine Ohuruogu, who is not running in the individual event. (Coincidentally, the medal order was Great Britain, USA and Russia in Istanbul two years ago.)
Watch live ONLINE March 7, 2014 @ 4:00 am ET:
March 7 Morning Session: 4:00 am ET
March 7 Evening Session: 11:15 am ETMarch 8 Morning Session: 4:00 am ET
March 8 Evening Session: 12:00 pm ET
March 9 Evening Session: 9:50 am ET