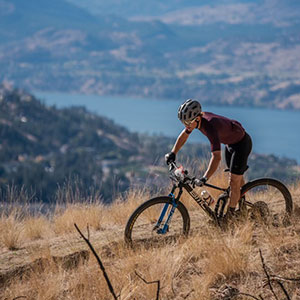 Whether it was better control and precision while trail running, a feeling of consistency throughout four plus-hour rides, or stability in the gym, there was an overall sense of improvement in training.
A Boost in Ability and Confidence
I could feel my baseline slowly rising with each session, and therefore the upper limit of my abilities was also growing. These newfound physical abilities also had a secondary impact on my confidence … and this may have been the biggest change I noticed throughout this whole experience.
One primary example of increased confidence came through mountain biking: especially while descending. I have always been a bit timid during fast descents, especially after crashing hard and snapping all the tendons in my thumb a few years ago. As with a company car, there seemed to be a limiter deep within my mind, causing me to reflexively slow down when the speeds became too high.
Needing to Make a Change
This was incredibly frustrating, and I had begun to go down the rabbit hole of subconsciously believing I wasn't a good descender, and therefore limiting myself throughout training and racing. An old saying in XC racing is "Races are won on the climbs and lost on the descents" and I was losing more races than I was winning … obviously something needed to change. I found this change while working with Noble Chiropractic.
Going downhill on a cross-country mountain bike is an exhilarating (and often terrifying) experience … and I wouldn't be surprised if this raw feeling of speed and adrenaline is what brought many of us to the sport in the first place.
Making split-second decisions about line choice, minute adjustments to body positioning, feeling the traction of tires play along the ground surface, and supplementing the bike's suspension with your own body movement is an addicting feeling … the rush of dopamine and endorphins is enough to power anyone back up the hill for another lap.
However, there's a fine line between control and lack thereof while going fast, and it's necessary to tiptoe around that line to push your own skills and abilities. Constantly pushing the envelope of your comfort zone is the only way to improve … and that's hard when a lack of confidence in oneself limits this comfort zone and the willingness to explore its boundaries.
I found myself doubting my own abilities, doubting the capability of my equipment, and doubting my development as an athlete. Slowly but surely, that all changed after weeks of working with Dr. Noble. It sounds cliché, but after sessions working on agility, reaction speed, and muscle activation, time seemed to slow down during technical mountain bike descents.
Pushing the Limits
It seemed as though I had more time to prepare for whatever the track threw my way, and could deftly maneuver around, over, and through the countless roots, rocks, and turns throughout the trails. Initially, it felt awkward, as if I was getting slower.
Looking back at the data though, it was clear I was going faster, in fact much faster than before. Soon I understood my newfound abilities of slowing down time, and began to use it to push the limits of my own technical skill. Descending changed from a tense, semi-frightening experience to something almost meditative … experiencing everything around and inside me with crystal-clear detail.
I could see the trail and choose the best line, hear my heartbeat and synchronize it with my breathing. I could simply feel my body work in harmony with the motion of the bike. People talk about the feeling of flow, and if it's anything … it's this: a feeling of effortlessness and pinpoint accuracy. Bliss, really.
Experiencing an Incredible Improvement
I returned in for a follow-up FTP test seven weeks later. Instantly, I could tell things were different. I had set a goal to maintain 300 watts throughout the test, but soon realized I was far more capable than I initially imagined. Throwing a bit of caution to the wind, I dialed up the intensity to 320 and sat at what would've been a completely unattainable power number only a few weeks prior.
Coming to the end of the 20-minute test, I realized there were still some matches left to burn, and with one minute left to go, I ratcheted things up again. After the numbers were done, it was a 19% increase from my original number … an incredible improvement. Normal month-long FTP increases at my age are typically in the 1% to maybe the 5% range. Anything in the double digits is relatively unheard of.
I was amazed, and since I took the first part of the test relatively easy and finished with gas left in the tank … well that number could only go up. And that was all the motivation I needed.