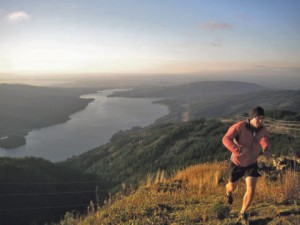 Daniel Probst is a 35 y/o Bellingham ultrarunner and a friend and patient of Noble Chiropractic. A '97 graduate of Ferndale High, who ran cross country for one season before giving it up because the pace and length of a 5k didn't appeal to him. He dabbed a bit in competitive mountain biking before joining Fairhaven Runners, falling in love with Galbraith Mountain. From Bellingham Alive, "Overall he hopes to introduce the beauty of Bellingham to runners and trail enthusiasts from around the world, as the Tor des Geants has done for the Aoasta Valley of Italy…'I think we should share our home with the world.'" (Written by Jessica Pain, Bellingham Ultrarunner Races for the Adventure, Bellingham Alive)
In a press release documenting his upcoming adventure, Dana Thornton writes,
8 RUNNERS, 108 MILES, 1 VISION – THE REVIVAL OF THE MOUNT BAKER MARATHON
This summer, eight runners will run from Bellingham Bay to Mount Baker and back – a total of 108 miles. Their route follows a proposed National Recreation Trail that winds from downtown Bellingham to the new Lake Whatcom Park and into the town of Acme, eventually linking up with the trail system that was used by the original mountain runners, over 100 years ago, to the summit of Mount Baker.
The group run is scheduled to begin at 9:00 am on Friday June 27 at Cornwall Beach Park and is predicted to finish at approx. midnight on Saturday, June 28.
Daniel Probst, founder of the Cascade Mountain Runners, has organized this year's run as a preliminary step in the planning and production of a new "Mount Baker Ultra Marathon," tentatively scheduled for June of 2015. The establishment of this ultra marathon race would serve Probst's and the Cascade Mountain Runner's long-term vision of funding the establishment of a signed recreation trail from Bellingham to Mount Baker that pays homage to the historical, environmental, and geological significance of the region and the original race.
The proposed Mount Baker Ultra Marathon route stands apart in the rapidly growing field of ultra marathon running as one of the only races that begins at sea level, climbs over 10,000 vertical feet and includes glacier travel on a volcano.
The public is invited to join in on the action at the official "Return of the Mountain Runners BBQ" at the Acme Diner on Saturday June 28 from 6:00-8:00 pm. There will be live music by Pretty Little Feet, BBQ from the diner and beer from Kulshan Brewing Co. The runners will be stopping by on their return from the summit of Mount Baker for a bite to eat and some celebration before finishing the last 25 miles of their journey. All proceeds from this event go towards the reestablishment of the Mount Baker Marathon as a destination event for Bellingham and Whatcom County.
2014 runners: Bruce Grant, Beat Jegerlehner, Suzanne Lundberg Gamble, Deb McInally, Emily Morehouse, Jackie Muir, Aaron Poh and Daniel Probst.
If you'd like more information about this event, images from past runs, or to schedule an interview with Daniel Probst, any of the participating runners or the event coordinator, please contact Dana Thornton at 360.920.7890.
*For a sweet article and a bit more background check out: The Big Run Bay to Baker. And Back? by Ian Ferguson