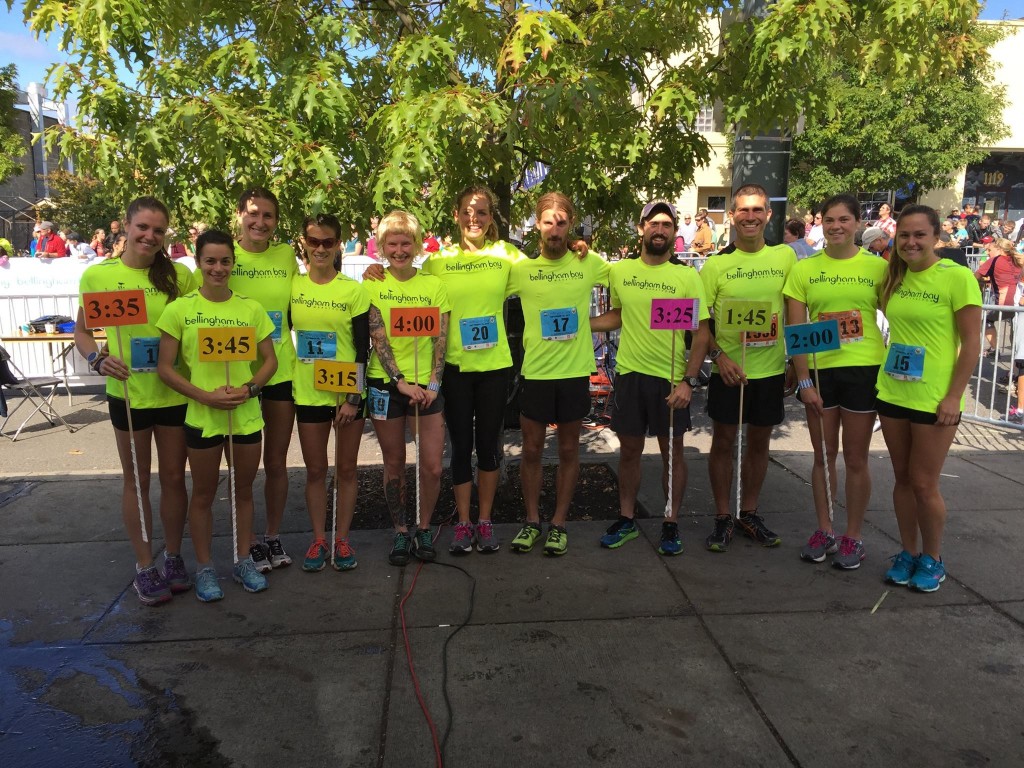 Under the new direction of Ben Twigg, the Bellingham Bay Marathon saw some great changes while maintaining its local spirit. The expo was packed with merch: discounted shoes, marathon tips, guest speakers, local race sign-ups, and BDP's pacer table, handing out course specific pace bands and raffle tickets. This was the first year the BBM offered pacers; based on a survey sent out to participants, majority ruled for the following finish times/paces:
1/2 Marathon
1:45 (8:01's)
2:00 (9:09's)
Marathon
3:15 (7:26's)
3:25 (7:49's)
3:35 (8:12's)
3:45 (8:35's)
4:00 (9:09's)
Amber Morrison led the first half of the 3:15 marathon group. "At the start line I found myself surrounded by a bunch of tall men asking me about my strategy. Was I going to bank time? Would I start out slow and gain speed?  I've run this race before; I know the hills are late in the race and the worst thing we could do was to go out faster than goal pace. The group was energetic with 20-50-year olds. Some first time marathoners, others well seasoned. Few people in the group were locals and three of them were from out of state. One gentleman we named 'DJ' – not because that was his name, but because he was rapping and singing tunes to us through mile 10. The group was playful and blamed me for farting when we rolled past a tractor spreading manure. I called out water stops and had them follow me to run the tangents of some winding farm roads. At mile 11-12 the group got a little more quiet and started to go to work. They were focused on their stride, breathing and keeping me in sight. At mile 14 I handed off to Courtney received many thanks and told them I would see them all again near the end of the race.
Courtney Olsen paced the second half of the 3:15. When Amber was around they were still joking, singing, spirited. Chris Hoch, a first time marathoner, who signed up for the BBM to celebrate having just turned 40 and looking to qualify for Boston made an effort to look good for the photographers, mentioning, "Hey guys, I'm going to run ahead so I can impress the ladies," or something of the sort. Hoch turned out to be the last man standing, as all others fell silent and slowly fell off the pace pack.
Amber recalls, "As Courtney came up the second hill on the course at mile 22 there were few of them left. One had felt good so he went on ahead at mile 21. The last 4 miles we kept encouraging them on, but lost one at mile 23. We knew how bad our last runner wanted to qualify for Boston (Hoch).  I could sense he knew how to hurt and how  to push through it. There was no doubt in my mind he would make it.  Courtney held the pace and I looped back twice to reign him back and keep us together.  The final 0.7miles I knew we had to speed up a bit to make it. As we rolled downhill he dug so deep and pulled out 6:45 pace all the way to the line. This year Chris Hoch turned 40, ran his first marathon and qualified for Boston.  We all shared hugs, smiles and sense of pure joy."
Aly Howisey and Alyson Klein paced the 3:35 marathon group. Aly had fun – "No one knew each other but we were friends by mile 2," she said. "Lots of laughs." She had a couple chatty men, keeping her in check on the 8:12's, joking over seconds over or under as each GPS beeped. They spoke about the forthcoming beer to be savored. Boston was a hot topic; Logan Rushby, a 29-year-old first time marathoner was apprehensive about qualifying, but ended up crossing the finish line with a Boston Qualifier in 3:32, welcomed by hugs and smiles from her pacers.
Alyson paced the second half of the 3:35 marathon, excited over the handful of people in the group who were running their first marathon. "The group was great – had a very positive feel.  I was excited because there was about 20-25 runners in the pack by the time I got the pacing stick. They were all very energetic when Aly passed them off to me. The pack was strong up until mile 18." Alyson remembers Rushby looking around, concerned to find her friend was no longer in sight, having fallen back. She asked Rushby, "Did you train together for this?" Rushby's response, "Oh no, we just met today, but we became friends and he is part of the pack."  It reminded Alyson why she loves running. "Some of my best friendships have formed through running and it was a joy to see others bonding over this experience." Despite a few racers in the group sticking to plan, most disbanded at mile 20-21. This is likely because the back half of the course is always a challenge, "The hills at the end can be a little defeating. There was much more support out this year, which makes a huge difference in those last 6 miles."
Maria Dalzot paced the second half of the 3:45 marathon. "My group was all business (which is kind of fitting because I am not a talker when I'm trying to get things done)." Like all the pacers, she offered encouragement and advice along the way – like making sure they cut the tangents and what the terrain was like ahead. "Once we hit the hills," she said, "the group broke up dramatically and I was left with two committed soldiers. Unfortunately, I lost one of them going up the hill to South Bay. I turned and yelled at him to get back up, to dig deep. My other dude kept rolling. I started to get aggressive and told him that if he slowed I was going to smack him with my paddle. I'm not sure if he appreciated that or not…but he made it to the finish line on par with his goal and 8 minutes faster than last year. We high-fived. Overall, super fun environment to be immersed in and it allowed me to experience what a road marathon is like."
Other pacers included Terry Sentinella and Baine Breaux (3:25), Kevin Douglas(3:45), Arielle Walton and Kelly Bird (4:00), and for the half marathon, Paul Frazey (1:45) and Miranda Lahman (2:00). *Sentinella and Douglas are heading to pace the Chicago Marathon next week.
To close with Aly, our 3:35 pacer – "In general, I love that this was organized and run by women…fitting since 65% of the participants this year were women. The guys that volunteered were awesome too, of course, but lots of bad ass, fast girls helping others reach their goal – is really cool."
Twigg and the members of the Bellingham Distance Project are working towards offering more pacers and pace groups for BBM 2015 and on. At the expo they documented requests for other race times. If you are interested in pacing for BBM 2015 or have suggests and/or comments, information will be available at www.bellinghamdistanceproject.com and http://www.bellinghambaymarathon.org/ in the future, or you can email BDP at bellinghamdistanceproject@gmail.com.
Compiled, Written by Courtney Olsen
Noble Chiropractic
119 Grand Ave
Bellingham, WA 98225
(360) 671-7067