Shoulder Issues in Bellingham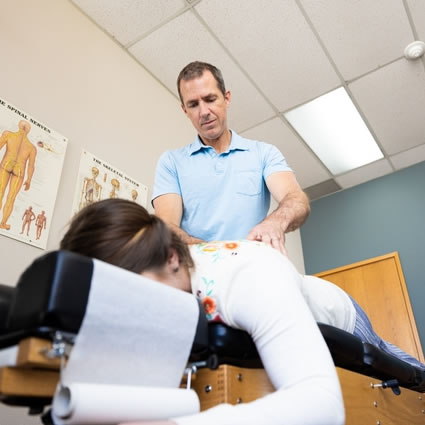 Shoulder pain and injuries can have a significant impact on your life. They can make it difficult to do everyday activities, such as cooking, cleaning, reaching for things, and even getting dressed. They can also cause significant pain and discomfort. Some common causes of injuries to this ball-and-socket joint are overuse, falls, and accidents. These injuries can range from mild strains or bruises to more severe tears or breaks.
Common issues we see at
Noble Chiropractic
are rotator cuff tears, impingement injury, frozen shoulder, and bursitis.
Changing Neurological Patterns
The consistent piece Dr. Noble sees in patients with shoulder injuries is neurological weakness. "Shoulder injuries are tough to get past without changing those neurological patterns," said Dr. Noble. The collarbone, which can often become inflamed, is another component, which is why he often adjusts the clavicle.
How We May Help
The primary way Dr. Noble addresses a patient's shoulder pain is with cold laser therapy, a modality that reduces inflammation and relieves discomfort. Using the ArthroStim instrument, Dr. Noble will also adjust the collarbone, cervical and thoracic spines, all the way down the lumbar—wherever it needs to be adjusted. Chiropractic adjustments can help improve range of motion and reduce inflammation in the ball-and-socket joint.
A Patient Success Story
One of our patients is a man who is about 65 who had rotator cuff surgery. For some reason, his orthopedic surgeon recommended no PT for up to 12 weeks. So the patient didn't go to PT, but instead came to Dr. Noble, who provided laser therapy to strengthen those neurological patterns, getting his shoulder strong.
The man went back to his surgeon at six weeks, and the doctor expressed that the patient looked good and to come back in another six weeks. When the patient went back in another six weeks, the doctor tested the shoulder, saw his positive results, and asked him, "Do you even want to go to PT?"
By Dr. Noble changing those neurological patterns, the patient improved considerably. "We just strengthened those patterns, and the patient was able to get full muscle recruitment in the shoulder, which healed so quickly," he said.
Book an Appointment
Get back that ball-and-socket function so you can return to what you love to do in life. Contact us today to schedule an appointment!

Shoulder Issues Bellingham WA | (360) 671-7067